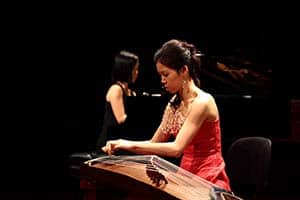 Cen Haishan is a registered AMIS Guzheng teacher with the Ministry of Education (MOE). She graduated from China Conservatory of Music with a BA in Music Performance (Guzheng). She is also a member of the Guzheng Teachers Association (Singapore) since its founding in 2015.
Haishan is able to adapt teaching methodologies for all types of students from the elderly, young children, youths and to adults. She teaches and communicates effectively in both English and Mandarin. For both the leisure hobbyists and serious learners, she
emphasises on proper methods and stable grasp of techniques in all variations, according to each student's aims.
Haishan is a highly experienced Guzheng teacher, with over 18 years of experience in music education and performance, both as a soloist and orchestra musician. She is familiar with the music education system in Singapore having taught all levels from Primary to JC. She has also coached students for the DSA (Direct School Admissions), many of whom successfully passed the auditions.
Haishan has also been invited to be on the panel of adjudicators for the National Music Camp (Primary and Secondary level), jointly organised by MOE and Singapore Chinese Orchestra.
Courses Taught By Teacher Cen HaiShan