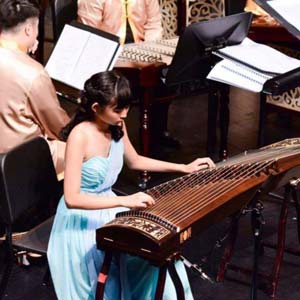 Grace started her music journey at the young age of 3, learning the piano, under the tutelage of Christine Gan where she obtained an ABRSM Grade 8. Since then, her musicality and interest towards music continues to grow. She started out her Guzheng journey at the age of 13 in Paya Lebar Methodist Girls School (Secondary)'s Guzheng Ensemble under the guidance of Mr Thum Soon Boon. She has shown great interest and talent in Guzheng as she pursued Guzheng further in Artstratosphere Music School. 
At the age of 17, Grace enrolled in Nanyang Academy of Fine Arts (NAFA), studying the Diploma in Music Teaching under the Ministry Of Education (MOE) Teaching Scholarship. She majors in Guzheng under the tutelage of Mdm Yin Qun where she obtained a Grade 9. With great academic achievement, she graduated from Nanyang Academy of Fine Arts with a Diploma in Music Teaching and National Institute of Education with a Diploma in Music Education in 2015 and 2016 respectively.
In Grace's journey in NAFA, she joined the NAFA Choir under the baton of Maestro Lim Yau, NAFA Gamelan Ensemble under the guidance of Miss Alicia De Silva and the NAFA Guitar Ensemble under the tutelage of Mr Manuel. She also learnt the Yangqin under Mr Wei Yan Ming, Guitar under Mr Manuel and Voice under Mr Reuben Lai.
Grace joined the Chengsan Chinese Orchestra in 2014 as their Guzheng and Zhongruan player and participated with the orchestra in various performances such as Esplanade's Beautiful Sunday, at the Istana where President Tony Tan was the Guest-Of-Honour. She also joined the Singapore Foochow Association Chinese Orchestra as their Guzheng and Zhongruan player where she performed a solo Guzheng concerto 'The Eternal Sorrow of Lin An' during their debut gala concert.
Grace also participated in the National Arts Council National Chinese Music Competition in 2014 with Jing Ying Chamber Chinese Orchestra as a guest musician under the Chamber Category and clinched a 3rd prize.
In 2016, she also performed in an overseas performance and masterclass by Mr Thum Soon Boon with Singapore Tzu Chi Foundation at Jakarta, Indonesia. She also performed in an overseas concert with the Hong Kong Polytechnic University at Hong Kong.
Courses Taught By Teacher Grace Tan