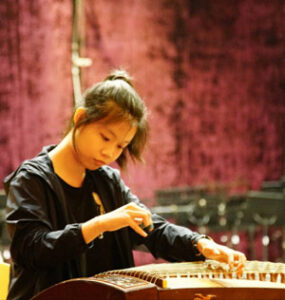 Theresa began learning the Guzheng at the age of 7, under the tutelage of Lim Pei Pei. She then continued her Guzheng journey under the guidance of Xu Hui, current Singapore Chinese Orchestra Guzheng musician. During her Secondary School years, Theresa took part in the Guzheng CCA and displayed great interest and proficiency in the instrument. She was appointed as the President and Principal Player of the ensemble where she lead her fellow Guzheng players to clinch the 'Certificate of Distinction' in the biannual Singapore Youth Festival Arts Presentation. Being a committed member, Theresa was awarded the CCA Medal of Distinction in Leadership in 2013.

During College, Theresa continued to expand her musical knowledge by joining her school's Chinese Orchestra, where she learnt the Pipa. Under the guidance of Yan Yu, Theresa was able to pick up the instrument competently and performed for various events in school. She was also appointed as the Student Conductor of the Orchestra. Theresa then joined the Marsiling Chinese Orchestra (MCO) as a Guzheng and Pipa musician and was involved in numerous performances such as the Beautiful Sunday Concert Series organised by Espanade and invited performances at the Istana. Other than the MCO, Theresa is also an active member of the Guzheng Association (Singapore).
Theresa's interest in music prompted her to take part in various music-related community events. She was part of the Tambourine and Cajon Contingent of the Chingay Parade in 2016 and 2017 respectively. Theresa also went on to pick up the Ukulele and performed for several charity events held at community clubs.

Subsequently, Theresa enrolled in the Nanyang Academy of Fine Arts (NAFA) with Guzheng as her Principal Instrument. She was involved in numerous concerts and competitions such as the biannual National Chinese Music Competition (NCMC) where the NAFA Guzheng team clinched the Bronze award under the ensemble category. Theresa graduated from NAFA with a Diploma in Music Teaching. Throughout her 3 years of study at NAFA, Theresa aims to develop herself as a well-rounded musician where she picked up various instruments such as the Guitar, Gamelan, Vocal and Percussion.
Courses Taught By Teacher Theresa Yep