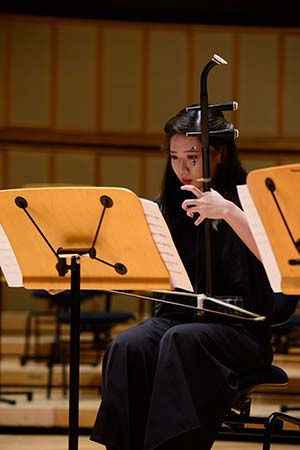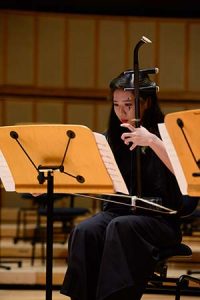 DEBORAH SIOK started learning the Erhu at the age of 9 under renowned first class Erhu musician – Mr Zhang Yu Ming. Throughout her years of formal education, Deborah has undertaken the roles of Chinese Orchestra concertmasters and sectional leader. Furthermore, achieving top grades in both performance and theory for H2 Music for the GCE A Level Examinations at National Junior College. Upon graduation, Deborah proceeded to successfully complete a Bachelor of Music (BMus) with First Class Honours at the Nanyang Academy of Fine Arts, where she also held the position of Erhu Principal during her years of study.
Deborah has extensive experience in ensemble playing, having been part of the Toa Payoh West Community Club Chinese Orchestra and the Singapore National Youth Chinese Orchestra for many years. She has been invited to guest play with Ding Yi Music Company amongst other performing ensembles, thus performing regularly at the Esplanade and SCO Concert Hall. She has also staged solo performances thrice at the Esplanade as part of Zeitmusik, the NJC Music Programme's annual concert.
In 2016, Deborah led NAFA's Chinese Chamber Ensemble to win the 2nd runner-up prize for the Ensemble category in the National Chinese Music Competition. In 2018, Deborah staged her first solo performance with the Singapore Chinese Orchestra at the SCO Concert Hall, garnering encouraging reviews. Later that year, Deborah also won the 1st prize for the Erhu Open Category in Singapore's National Chinese Music Competition. She has also performed overseas with various Chinese ensembles and gone on exchange programmes, such as to the China Conservatory of Music, Shanghai Conservatory of Music, Central Conservatory of Music Middle School, Suzhou University of Science and Technology, the Hong Kong Polytechnic University and Ying Wa College. She has also had the privilege of attending masterclasses by Professor Zhang Zunlian, Professor Huo Yonggang, Professor Zhao Hanyang and veteran Erhu performer Xue Ke.
Deborah holds two Diplomas in Erhu performance (awarded by the Central Conservatory of Music and NUS Centre for the Arts), Grade 6 Theory of Music (ABRSM) as well as Grade 8 Piano performance (ABRSM). Having a passion for learning and teaching, she is patient and a hard worker who strives to understand each student and tailor her Erhu lessons to every student's different needs.
Catch this touching performance of the 二泉映月 Erquan Yingyue (Moon's Reflection On Erqaun) Huqin Quartet Music Video, performed by our Erhu teachers – Deborah Siok, Shunta Goh and Chen Ning: