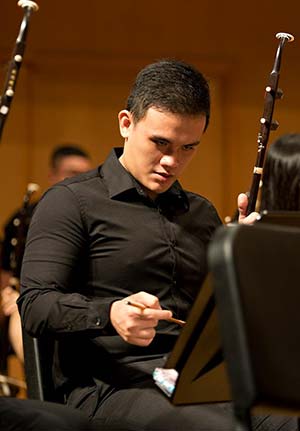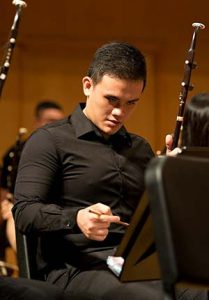 FONG LIYANG started learning the Erhu at the age of 9, under China first grade performer – Mr Liu Chong Zheng and obtained a Diploma in Erhu awarded by Nanyang Academy of Fine Arts at the age of 15. Liyang then joined the Nanyang Academy of Fine Arts to further his studies in Erhu performance under the tutelage of the Singapore Chinese Orchestra's concert master, Mr Li Bao Shun. Liyang graduated in 2013 with a Diploma in Music Performance.
Besides the Erhu, Liyang is a versatile musician who is also able to play the other members of the Chinese string family: gaohu, zhonghu, banhu and jinghu. He has garnered extensive performance experiences in playing with orchestra alongside many renowned professional musicians such as: Liu Chang Fu, Liu Xiang, Wang Fan Di, Song Bao Cai. Hence Liyang is a regular performer at the Esplanade Concert Hall, SCO Concert Hall, Our Tampineses Hub – Festive Arts Theatre and many other venues in Singapore.
As the current concertmaster of the People's Association Youth Chinese Orchestra, Liyang has performed intensively with the Orchestra for concerts such as the 'In Youthful Company', 'Tampines Impressions', 'Fusion Impressions', 'Eastern Impressions' and many more concerts.
Liyang is the current Erhu instructor for the Bukit Batok Peiyi Chinese Orchestra and was the Erhu instructor of hongwen school. Liyang is one of the most experienced Erhu teachers at Eight Tones and is famed for being a favourite with many of the Erhu students. He is also an Erhu luthier who is highly skilled in tuning, modifying and repairing Erhus. Having a passion for learning and teaching, he is patient and a hard worker who strives to understand each student and tailor his Erhu lessons to every student's different needs.