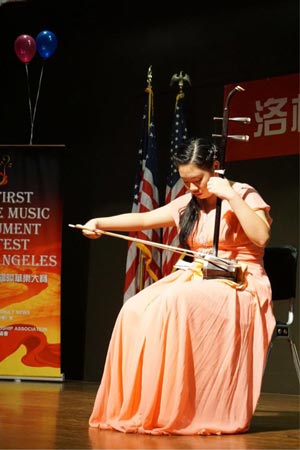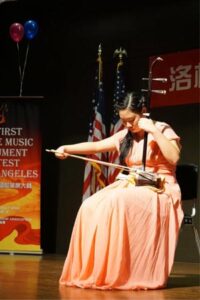 Graduated from Hwa Chong Institution, Li Siyu started learning the Erhu at the age of 5 under the tutelage of Guo Si Quan, a graduate of the China Conservatory of Music. Since the age of 7 she has taken lessons from Singapore Chinese Orchestra (SCO) musician, Shen Qin, and from the age of 8 participated in the China Central Conservatory of Music Instrumental Examination co-organised by the Nanyang Academy of Fine Arts, consistently attaining excellent results in Erhu performance. In 2015, she achieved a Distinction in the Erhu Performance Diploma Examination.
At the age of 9, Siyu participated in the biennial National Chinese Music Competition and was awarded the second prize in the Erhu Junior Category. Thereafter, she achieved the first prizes for three consecutive editions of the same competition – the Erhu Junior Category in 2012, the Erhu Youth Category in 2014 and the Erhu Open Category in 2016. In 2016, she was invited to perform as a soloist in the erhu concerto, The Brave Spirits of the Snow Mountains, accompanied by the SCO, in a rare honour during the Prize Winners' Concert of this competition. In 2017, Siyu had the privilege of attending masterclasses by Professor Zhao Han Yang as well as Professor Liu Chang Fu in the Central Conservatory of Music in view of the award given by the National Arts Council during the competition in 2016. In 2020, she took part in the Singapore National Chinese Music Competition and was awarded the Audience Choice Award for the Grand Category.
In 2014, Siyu participated in the inaugural Los Angeles International Chinese Music Competition semi-finals in China and was awarded second prize. She went on to win the Gold medal in the finals held in the USA. Siyu was also invited by renowned Erhu master, Professor Zhao Han Yang of the China Central Conservatory of Music in Los Angeles to perform two traditional erhu classic works, Racing Horses and The Flower.
Siyu was admitted as Erhu player to the Singapore National Youth Chinese Orchestra (SNYCO) in 2011, the youngest Erhu player in that year. She was awarded the "Excellent Musician Award" for three consecutive years. In 2016, Siyu was appointed Erhu II principal. In 2017, Siyu was also one of the soloists in the erhu duet Storytellers in Ann Siang Road. In 2020, she was appointed the Erhu I principal. She has also been invited to be a guest performer for several other ensembles and orchestras like Ding Yi Music Company, NTU Chinese Orchestra and NUS Chinese Orchestra. Other than Erhu, Siyu also learnt Jinghu since the age of 11.
Courses Taught By Teacher Li Siyu