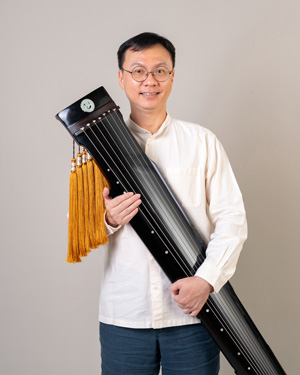 Looking for a Guqin teacher who can not only teach you the ins and outs of the instrument, but also make lessons relaxed and enjoyable? Look no further than Khoo Kiak Ern! Not only is he experienced in his field, but he is also incredibly meticulous and patient. Whether you're looking for a fun hobby or wanting to become a performer, Kiak Ern's lessons will help you take your skills to the next level in a relaxed and enjoyable way. Plus, with the ability to teach in both English and Mandarin, communication will never be an issue. 
Khoo Kiak Ern is a lover of Chinese traditional culture who found his passion in playing the Guqin. His interest in the culture led him to specialise in Chinese Studies during his graduate and post-graduate years, where he was first introduced to the beautiful instrument in the 1990s. He was fortunate to have found the late Mr Boh Chit Hee as his first teacher in Singapore, whose humble and composed personality had a deep influence on Kiak Ern and made him understand the importance of self-cultivation in playing the instrument.
For Kiak Ern, the Guqin represents more than just a musical instrument, it's a symbol of traditional culture. During his years as a PhD student in Shanghai, he had the opportunity to visit various Guqin masters and teachers in China, Hong Kong and Taiwan, where he acquired skills and knowledge through lessons and pointers. His passion for the Guqin led him to further research its history, aesthetics, and concepts, deepening his understanding of the instrument and its music, which in turn helps in his teaching.
With over three years of teaching experience, Kiak Ern is excited to share his knowledge of not just the skills and techniques of playing the Guqin, but also the culture behind it. He is particularly interested in exploring how the Guqin can be relevant in today's modern society and its connections with our daily lives. Now he has joined Eight Tones Music School and is ready to pass down his knowledge to the next generation of Guqin players.
Courses Taught By Teacher Khoo Kiak Ern