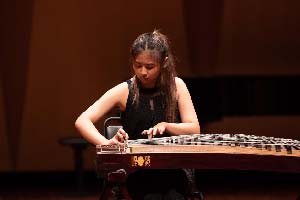 Guzheng at the age of 11. Got into NAFA ,Diploma in music teaching in 2018 and changed course to Diploma in music in 2019. At the same year she got into Singapore National Youth Chinese Orchestra as a player and became a freelancer at Singapore Chinese orchestra as well. She is Currently learning Guzheng and percussion under the tutelage of Singapore Chinese Orchestra Guzheng Principal, Xu Hui as well as Singapore Chinese Orchestra percussion player, Shen Guo Qing.
Roles
Guzheng Principal In Nafa Chinese Ensemble (2019)
Performance Experience
2018-SCO-NAFA Campus Phapsody 2018 @ SCO Concert Hall (SCH)
Music Platform @NAFA Lee Foundation Theatre(LFT)
2019-Ode to the sun :NAFA-RAVE Chinese concerto competition 2019 Winner's concert @LFT
NAFA-TUNUA Exchange concert @TUNUA Concert Hall
Yellow earth NAFA Chinese Orchestra –NAFA Chorus @LFT
Singapore Chinese Music Festival (SCMF)Opening ceremony @SCH
Awards And Acknowledgements
2012-2017 , NAFA CCOM grading exam , Grade 5 to diploma , certificate of merit.
2019 Nanyang International Music Competition (NIMC),古筝少年组,金奖(gold).
Courses Taught By Teacher Sim Kee