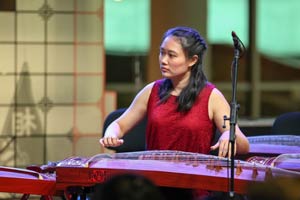 Passionate about music since young, Pingyu started learning the Guzheng since the age of 6, mainly under the guidance of Mdm. Li Tingting. She subsequently majored in Music (Guzheng) in the School of the Arts (SOTA), Singapore, under the tutelage of Mdm. Yin Qun. As a member of the SOTA Chinese Chamber Ensemble, she attained the Gold Award for the International Chinese Music Arts Festival in Taipei (Ensemble Category). In 2019, Pingyu received a B.A. with Honours (Distinction) in Chinese Studies from NUS. She was a member of the NUS Chinese Orchestra (NUSCO) between 2016-2019, and the principal player in the NUSCO Guzheng ensemble.
Pingyu has worked with multiple local music organisations, including the NAFA Guzheng Ensemble, Siong Leng Musical Association, Dingyi Music Company, Hsinghai Arts Association, and The TENG Company. She has performed both locally and internationally, including the India-Singapore Strategic Dialogue Dinner Reception (2012), the Lee Kuan Yew Water Prize Ceremony (2014), Singapore en France – le Festival: Soul Journey (2015), and the Gala dinner for 3rd International Conference on Public policy (2018).
Pingyu firmly believes in the integrated learning of both music and culture, and actively incorporates Chinese literature, history, and cultural elements into her lessons. In her free time, she enjoys reading, writing, and translating literary works.
Courses Taught By Teacher Pingyu