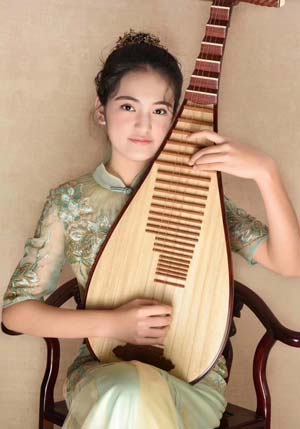 Parveen Kaur started learning the pipa when she was 11. She won the first prize of the biennial National Chinese Music Competition in 2016 and 2018 in pipa junior and youth categories respectively and later the Singapore Chinese Music Competition (SCMC) in 2020 in Pipa senior category. She also performed a concerto "Chinese Character" with the Singapore Chinese Orchestra at the prize ceremony of SCMC in December 2020. Parveen was admitted to Nanyang Academy of Fine Arts – School of young talents when she was 12, under the tutelage of pipa performer and educator Ms Liu Yan. She is a member of the Singapore National Youth Chinese Orchestra since 2019 and the Singapore Pipa society since 2016.
Parveen has also been performing with the Dingyi music ensemble together with her chamber ensemble members in the annual August showcases in SOTA since 2018. She has also exposed herself to performing with western instrumentalists in a pipa and string quartet piece "Rose Tango" in the SOTA August showcase concert "intentions", in 2021.
Parveen Kaur loves to deeply involve herself in the community. She has volunteered to perform with the Purple Symphony Orchestra for various concerts since 2019. She also kickstarted a music project called "The Resonance Project" with some of her friends where youth volunteers in Singapore are recruited to teach children music in various childcare centers.
Back in 2016 when Parveen first moved from China to Singapore, she participated at the "Youth got talent" event and was selected for top 10 great performances. She also won first prize in the Eighth Asia International Art competition in 2018 and is currently studying at School of the Arts Singapore.
Courses Taught By Teacher Parveen Kaur