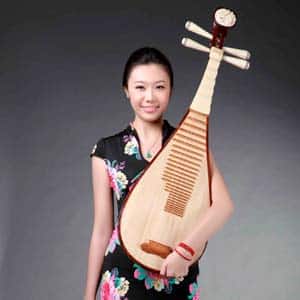 Wang Yiying started learning the Pipa since the age of 9 under the tutelage of Pipa virtuoso Mdm. Wang Xianghong. She received the China Conservatory of Music Pipa Grade 10 Examination Certification at the age of 15, and graduated from the Singapore Raffles Music College, majoring in the Pipa. Concurrently, she also learnt the Guzheng from Mdm Xu Hui, the Guzheng associate principal with Singapore Chinese Orchestra.
Upon graduating from the Singapore Raffles Music College, Yiying dedicated her time to music teaching and performance. Presently, she has more than 20 years of experience in music performance and over 10 years of experience in music education. She has performed in both solo and ensemble settings, including a concert before the late former president S R Nathan, and as a soloist at the Spring Gala for the Singapore Chinese Embassy and for Singaporean composer Mr. Lee Ngoh Wah's concert.
Throughout the years, Yiying's students have achieved stellar results in the local Chinese instrumental graded examinations, as well as first and second places in places in international Chinese instrumental competitions. Yiying also received the Teacher's Excellence Award from the 2018 International Chinese Arts Festival. Apart from teaching privately, Yiying is also a Pipa and Guzheng CCA instructor at several local schools, and have led multiple school ensembles and orchestras to achieve good results in the Singapore Youth Festival competitions.
Courses Taught By Teacher Yiying